Oct 8, 2022
2016 Chicago Marathon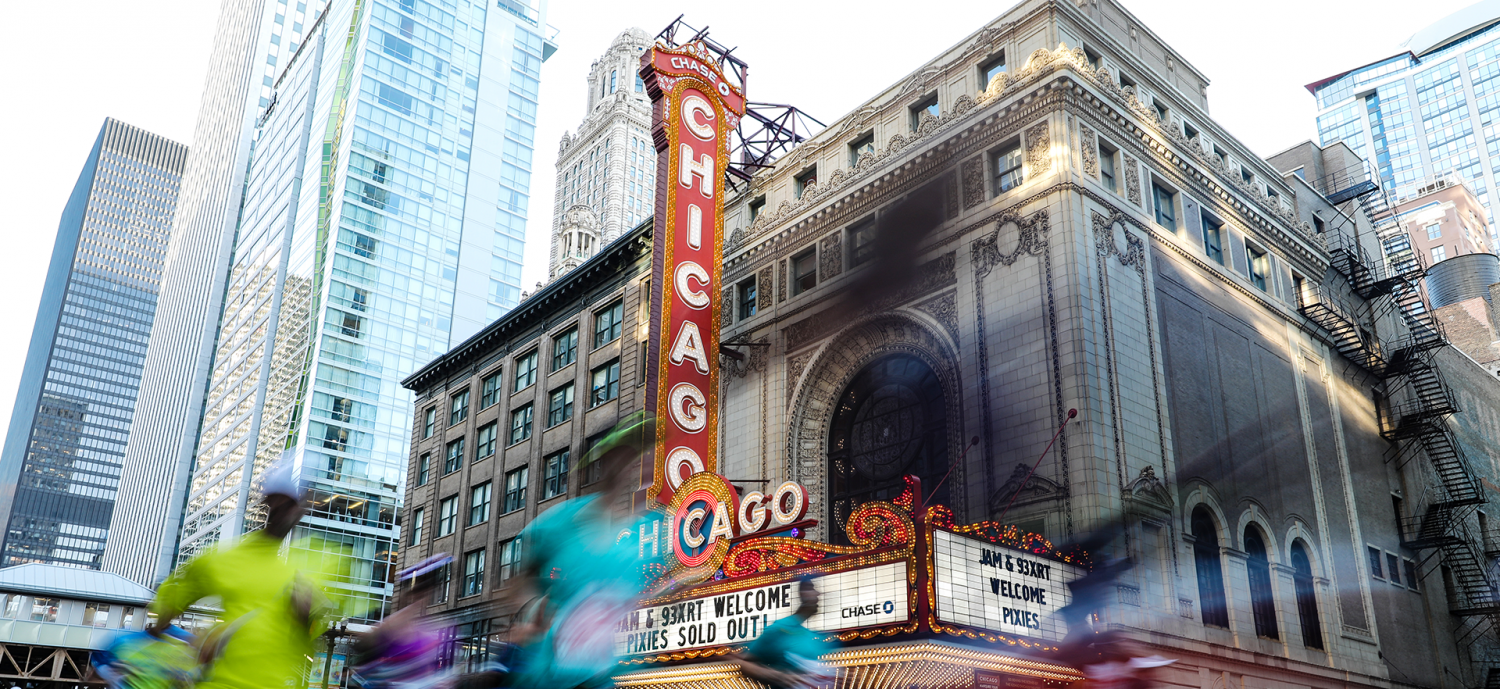 This weekend is the Chicago Marathon and we have the following runners racing!
- Jeff Bowman
- Corey Joyner
- Ariel Urban
- Danielle Nasello
- Susanne Neuman
- Nick Marraro
- Drew Bornhorst
- Lance Schmidt
We also have a post from one of the newest members of the RunnersFix family who has taken the time to share his experience from the 2016 edition of this race. Be forewarned that it's a lengthy piece but does include some tips specifically for this race. We hope it'll provide a last minute source of motivation as well.


2016 Chicago Marathon: Trip and Race Report by Steve Chu


The Background:
The Chicago Marathon is one of six World Marathon Major races - a prestigious designation it shares with the Boston, New York, London, Berlin, and Tokyo Marathons. It also holds a special place in my heart because I lived in Chicago for 3 years in my late 20s and ran the race in 2006 as my first marathon. Little did I know after stumbling across the line in 3:07 that I would return to the city exactly 10 years later looking for a qualifier to the 2017 World Championships to represent Taiwan.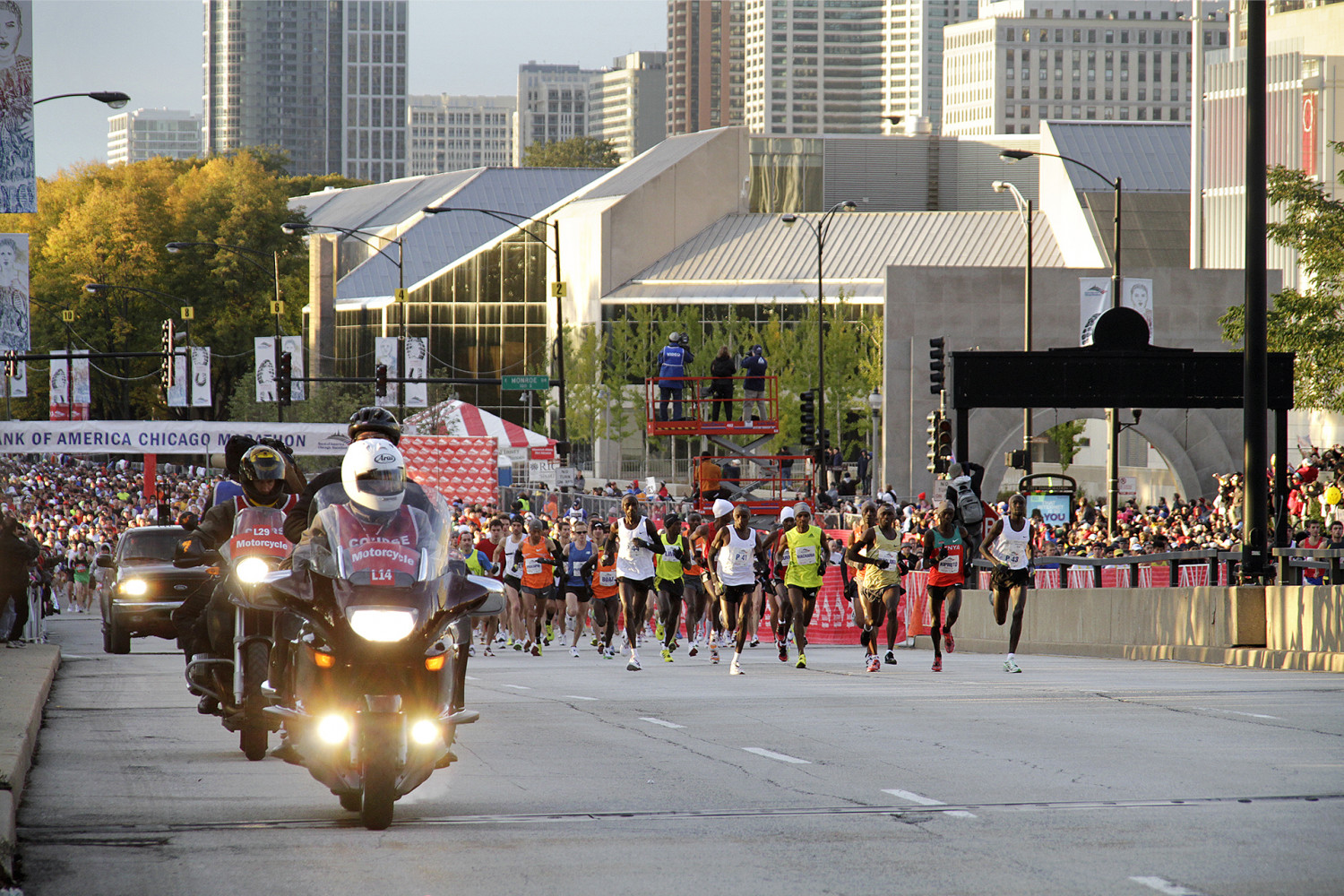 Pre-race
I landed at Chicago O'Hare Airport on the afternoon of Friday October 7th, 2016. It felt like coming home, I made the familiar trek to the blue line station (one of the routes on Chicago's tram system) and headed downtown to my hotel. Like other major races around the world the Chicago Marathon invites a group of elite athletes to their race and also offers a sub-elite division for runners that are slightly slower. One of the perks of being an invited elite athlete along with appearance fees and a chance to win some prize money is the race offers you free lodging for the weekend. The race director usually rooms two elite athletes together, but sometimes give you the option of "buying out" the other half of the room if you are bringing family members. While I missed the cutoff for the elite division this year by about a minute and was in the sub-elite division for this race, my good friend Jon Mott received an invitation to the elite field and talked the elite athlete director into letting me room with him. (Score for discounted rooms!)
I made my way to the hotel shortly before dinner time, and since Jon wasn't there yet I dropped my stuff off and headed to the expo to pick up my bib. I met my friends Dayu and Jay and their wives at the expo and we decided to get dinner at nearby Chinatown. When I got back to the room Jon had arrived, we grabbed some Gatorade and snacks from downstairs and then it was lights out.
Jon and I are on the same page about almost everything running, but especially pre-race routines. We got up at 7 a.m. and got ready to head out for our last shakeout run. An amusing anecdote is that at this point we're both in the early stages of our elite marathoning careers. Jon had received a notice in his prerace packet that he could be subject to random drug testing at any point during the weekend and since he somehow hasn't been drug tested before this race he was wondering if we needed to wait in the room for the drug testing agent. I had the pleasant experience of being waken up at 5:30 a.m. by an USADA agent earlier in the year at the Houston Marathon as an invited elite, so I told Jon if the agent hadn't come by yet he was probably in the clear. (What do I know? I have only been tested once myself). We headed downstairs and knocked out 3 unmemorable miles and brainstormed about where we can get some good breakfast. When we got back there was a gentleman outside our door looking for Jon. (oops)
Since we had just finished running, the agent needed to wait about 2 hours before he could draw Jon's blood. Also because of USADA drug testing procedures, he couldn't let his assigned athlete out of sight once he found him, so he ended up going down to breakfast with us. It was an interesting experience hearing his stories of being a drug testing agent while we wolfed down plates of pancakes, scrambled eggs, and breakfast potatoes. When breakfast was over the agent escorted Jon to get his blood drawn and I went back to the room to get my stuff ready for the race.
The rest of the day was fairly boring, which is perfect for the day before a big race. I went to the elite athlete technical meeting with Jon to kill some time, and then met up with some friends for dinner at an Italian restaurant while Jon enjoyed the buffet spread in the elite athlete lounge.


Race Day: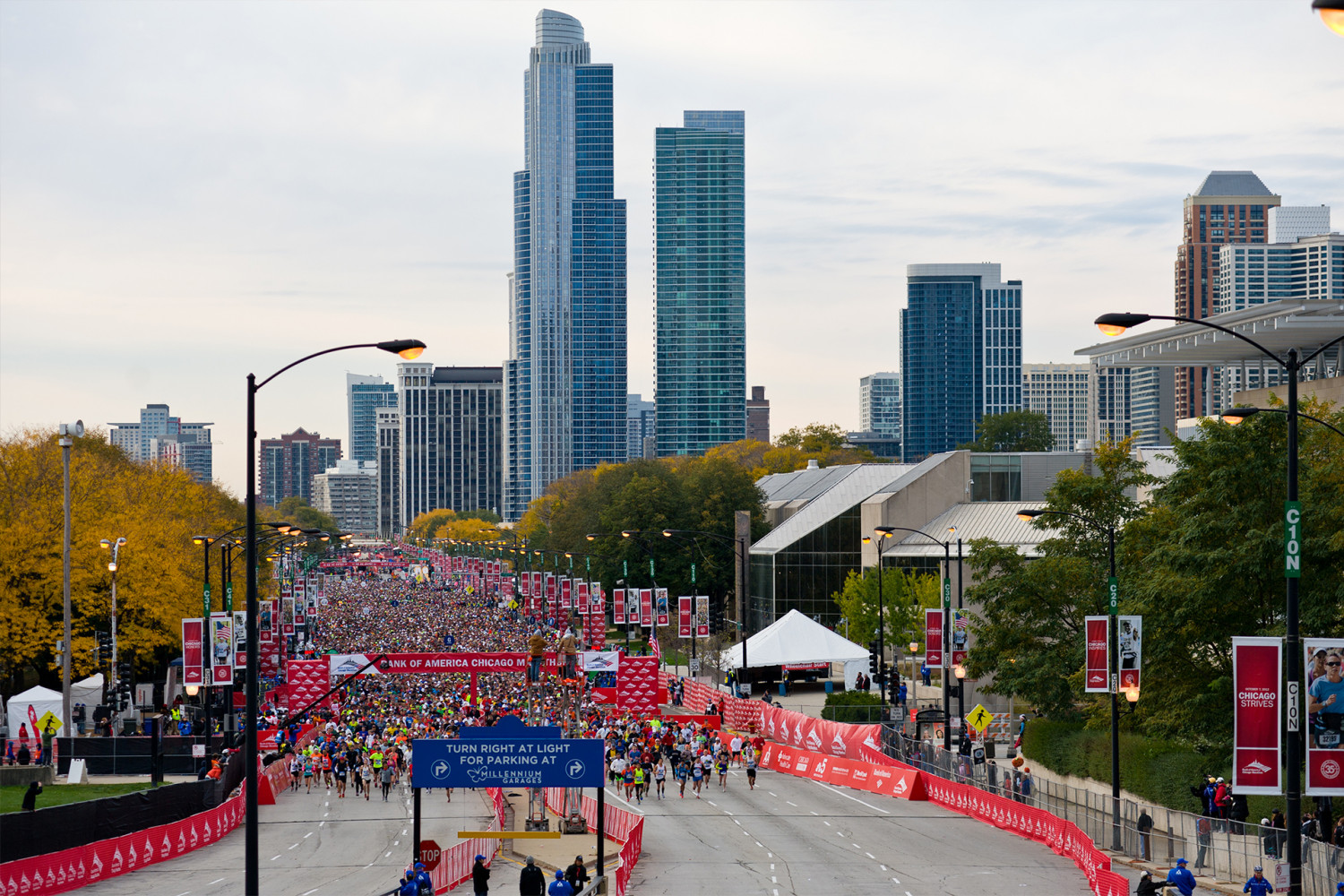 Race morning was here! Shortly after Jon boarded a bus for the elite athletes, I jogged the half mile or so over to the tent they had set up for the American Development Program (Chicago Marathon's formal name for their sub-elite program). I just relaxed until it was time to warmup, jogged around very slowly for about 10-15 minutes, used the porta potty one last time and went to line up with everyone in the ADP. Right after the national anthem the elite athletes took their spots on the front of the line and then they let the ADP runners line up.
The gun goes off and right away a flood of runners rush by on both sides. While I was looking to run right under 2:19 for the World championships qualifier (a 5:18/mi pace) I stuck to my plan of going out a little slower than goal pace and easing into my race pace. In the stampede I somehow found my friend Matt Grey who told me he wanted to go through halfway in about 1:09-1:10 like me, so we decided to work together. I passed the first mile marker in 5:29 and thought about picking it up slowly, but Matt just muttered "we gotta go" and surged. I shook my head as the mile marker could have been short and for all we know we're running the right pace at the moment after starting the first 2-3 minutes of the race slow. I do remember that we somehow started picking up runners as the miles rolled by and by the time we rolled through 10K we had about 10-15 guys in our pack. It was perfect since it was fairly windy and I wisely dropped to the back of the pack. Around 7-8 miles we closed in on a familiar figure, it was Jon! I was initially worried for him, but then realized he probably decided to relax a little bit instead of fighting the wind by himself early, as once our pack caught him he latched onto the guys leading the front of the pack and ran smoothly on their shoulders. I had the urge to get up there to let him know I was also here, but I overheard Matt enthusiastically tell him "hey man! Steve is here too!" so I tucked back in.
Shortly after our dozen+ strong pack hit halfway between 1:09:43 (Jon) and 1:09:46 (me). Then I made the one critical error in the race - Jon made his trademark acceleration after halfway and since I was in the back of the pack by the time I realized what happened it was too late to cover it. Matt, myself, and one other runner tried to close the gap anyways which caused our pack to splinter instantly. We hit the 25K (15.6mi) mark shortly after and Jon was already 100 meters ahead of us. Matt informed me, almost apologetically, that the pace was getting a bit hot for him and that he is backing off.


Chicago Marathon Tip Break

If there are a couple tips I can give to people running the Chicago Marathon they would be as follows:
1. Don't trust your GPS, especially in the city! But don't be super reliant on the mile/km markers either, despite Chicago being a WMM the markers can be off. The only markers that are certified are the 5K mats.
2. Pack up with other runners! Especially when it's windy!


Last 10 miles of the race: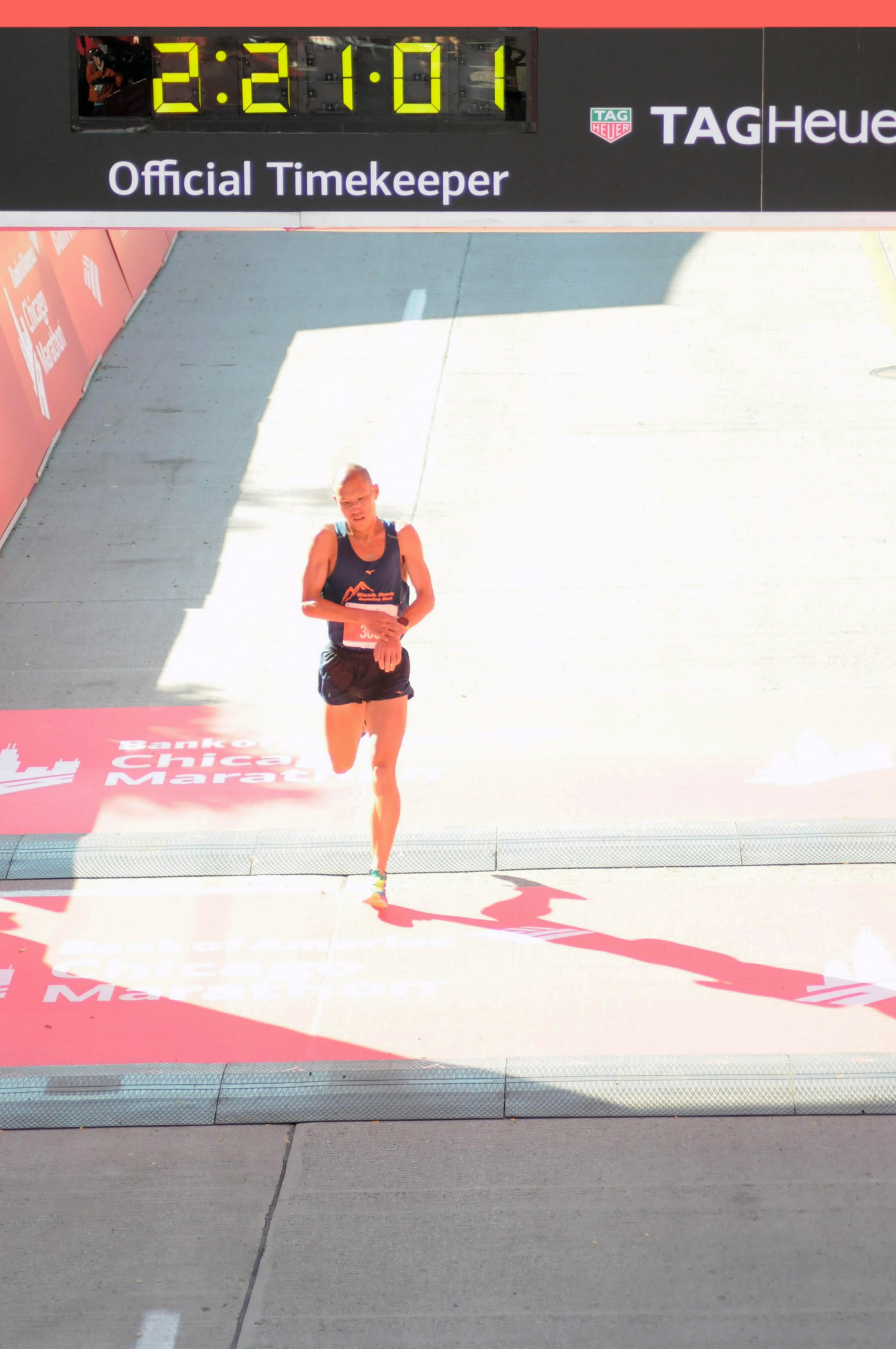 I was re-learning lesson #2 from the tip section at this point. Looking at my official results later: I had covered each of my 5km sections through halfway between 5:18-5:21/mi. (3:17-3:19/km). Running the 2nd half mostly alone at roughly the same effort my 5th-8th 5km segments were between 5:26-5:30/mi. (3:22-3:25/km). Despite slowing down slightly in the second half, I kept fighting and was moving up well. I was consistently passing someone every mile or two without being passed, at least until the women's lead truck pulled up next to me around mile 20 and 2-time world champion Florence Kiplagat blew by me. I was feeling awful the last half hour of the race but carried on knowing I can still PR. Finally with a mile or so left I somehow caught back up to Florence, and not wanting to be "that guy" that ends up trying to outkick the female winner coming down the homestretch on broadcast TV I surged to create a bit of separation. With about half a mile to go I made the right turn up the only significant hill on the course and was basically all-out at this point. At the top of the hill I made the last (left) turn on the course and it was about a minute of running left! When I passed the "200 meters to go" sign I looked up to see Jon crossing the line in front of another guy that turned out to be a Swedish Olympian. I was doing my Usain Bolt impression to try to dip under 2:21 but the finish line workers had brought out the finish line tape for the women's champion and motioned for me to veer to the right side of the finish. As I watched the clock tick to 2:21:00 with meters left in the race I may or may not have let a F bomb escape my lips. 2:21:02 - 50 seconds PR and I moved into Taiwan's all-time top 10 list (9th) with that performance.
Looking at results later Jon and I had moved up from 29th and 31st respectively at 25K to 20th and 22nd at the end. While I missed the world championship standard that day, I knew I had taken another significant step forward. I had run up to 160 miles (257 km) a week and completed some of my best workouts leading up to this race, and most importantly I ran a (mostly) smart and tough race on a windy day, taking almost a minute off my PR after being solo for the last 10 miles. I was optimistic I would get that standard in Houston the following year (spoiler alert, I didn't). To this day I still think this was one of my best races - a top-25 finish at one of the world marathon majors. However, after writing this recap and reflecting on all the lessons I have learned the last few years and especially recent changes with my training situation - I believe I am still capable to replicate this breakthrough a couple more times before I hang up my racing flats for good.